• Sunday, July 15th, 2018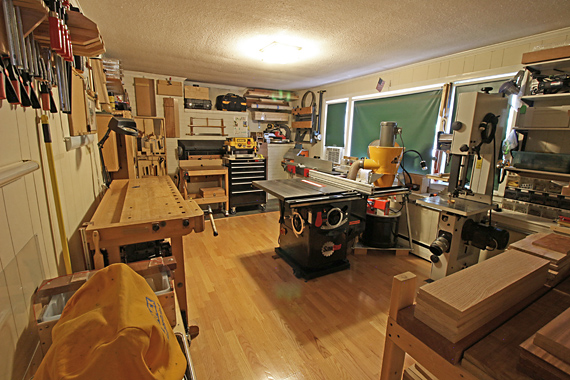 Looking back at photos of my shop as it was 16 years ago (below), I was struck by the differences from now (above). For example, all of the major machines have been upgraded, and I had yet to install most of the shopmade workbench features that now seem essential. Just as interesting, however, is the persistence of effective shop systems. For example, my sharpening bench is essentially unchanged, even in its location alongside the workbench, despite the whole shop being in a different location.
Now to my advice: Let your shop evolve.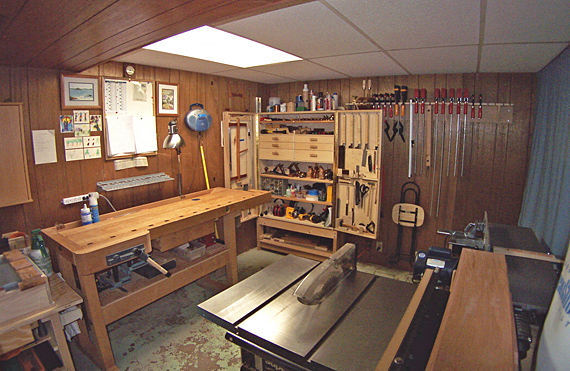 By all means, sure, take your best shot at the initial set up, using your resources of space, money, time, and knowledge. But don't get seized with paralysis by analysis, especially from drooling over dream shops in magazines.
There is no dream shop. There's your shop, and you need to set it up and start building things in it as soon as possible.
In time, it will become evident what works and what changes are needed, based on what you build, your style of working, and the available resources. At any time, it is impossible to think through every contingency. Better to get going, and let it evolve.
In this way, you will have something better than a dream shop. You will, with persistence and some luck, have a real shop – your shop – and it will be right for you because it will change with you.
My first "shop" after leaving the home of my youth, was a Workmate in a hallway, tools stored in cardboard boxes, and wood stored in a stairwell. Yet I built. Check out Fine Woodworking #237 (Tools and Shops, Winter 2014) for the layout of my humble shop many years later. Of course, however, some features have evolved since then. The photo here at the top is more recent.
We're all, always, setting up shop – because we woodworkers love to build things.