• Sunday, August 13th, 2017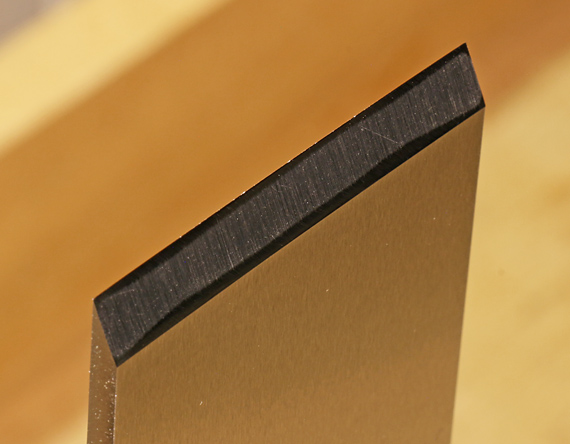 Before making my point, here is a synopsis of the differences between A2 and O1 blades, as I understand them, and have experienced in using them. Better however, you should also read a much more learned discussion by the Man of Steel himself, Ron Hock.
In general, for comparable quality blades:
O1 is finer grain steel and can be brought to a sharper edge than can A2. It is not a big difference but may be important depending on the application. Some dispute this; perhaps O1 only seems to get sharper because it is easier to sharpen, and because of this next point.
Due to the difference in grain size, the honing angle for A2 should be a few degrees higher than for O1.
A2 is more difficult to sharpen than O1, both in speed and in feel on the stone. However, both are well within the range of a basically skilled sharpener.
Owing primarily to its tough chromium carbide particles, an edge in A2 is more durable than in O1. However, that is not the whole story because . . .
They may dull differently. The O1 edge is likely to slowly and simply round over, while A2 may chip. Ron explains that chipping occurs when oversized chromium carbide particles in A2 steel pop out of the edge.
This last point is the one I would like to explore, specifically with regard to differences among A2 blades. We would expect some differences among manufacturers because they vary in their formulas and processes. However, I suspect there can also be significant variations in edge behavior – the tendency to chip – among blades of a given brand, and even within a single blade.
I want slow and steady dulling wherein the edge simply rounds over increasingly. I do not want precipitous edge break down – chipping. It is unwelcome, though I suppose tolerable, in a jack plane, but downright infuriating in a smoothing plane. Everything is going fine until, ugh, those little ridges suddenly appear on the wood surface that I am trying to finish plane to otherworldly exquisiteness. And so, a certain Bad A2 Blade (pictured above) has been banished from my shop. It got those hideous chips as I planed not teak, but affable poplar, and only for several minutes.
I have sharpened this blade exactly the same (same stones, 33° secondary bevel) as other A2 blades which hardly ever chip in typical use. Even more annoyingly, the bad blade has behaved worse after some sharpenings than after others. I would think 33° is high enough for the grain structure of A2, and anyway, going a bit higher gave little or no better results.
Perhaps chipping is not a problem with any blades of one or more brands, and thus the problem could be avoided simply by choosing a good brand. Interestingly, I have two other A2 blades of the same brand as the Bad Blade that do not have this tendency to chip. I also have two Hock A2 blades that give me no such problems, and I had another blade of another brand that exhibited a milder but still troublesome tendency to chip.
This is not a tool test, so I cannot fairly generalize from this sample size as to which brand, if any, is best in this respect. I can only relate my experience. There is some test evidence that Hock A2 blades are indeed better in avoiding chipping, but this is based on testing a single blade. I wonder if one of the magazines might explore the issue using adequate sample sizes to account for potential variability within, as well as among, brands.
Which brings me to my main point: There seems to be considerable inconsistency among A2 plane blades – among brands, within at least some brands, and perhaps even within individual blades. To me, this uncertainty is a disadvantage of the A2 genre as a whole. That is not to dismiss A2 altogether, but simply to recognize this among its disadvantages
So, for my bevel-down smoothing plane, it's O1. A2 is just not worth it in that role; the uncertainty plus its inherent disadvantages outweigh its advantages. By the way, PMV-11 is another matter for another day, but I do currently use it in my bevel-up planes. And the Hock A2 in my good old bevel-down jack is going to stay there because the edge is wonderfully durable and it does not chip.