• Wednesday, November 05th, 2014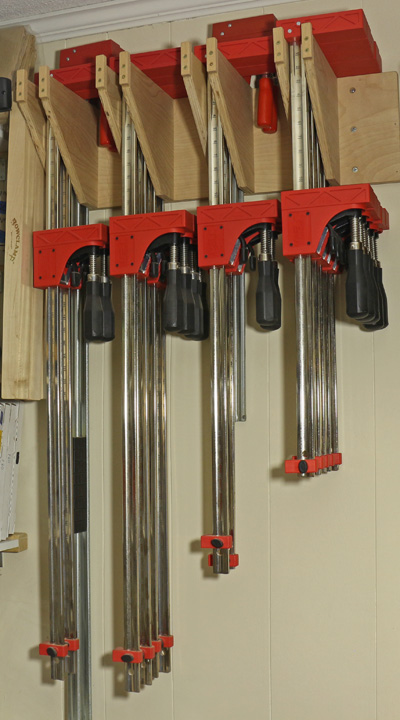 What task produces some of the tensest moments in woodworking? Gluing up, right? And what are the main tools we use for that task? Clamps. Yet there usually is not much discussion about them, many woodworkers skimp on them thinking they're not real tools, and they generally just don't get much respect.
Let's start with long clamps – bar clamps, carcass clamps, whatever you want to call them – that are mostly used to edge glue boards, clamp post and rail assemblies such as for a table, and glue up carcasses. This discussion refers to clamps where the contact part of the head starts right at the bar; not F style clamps.
I used 3/4″ pipe clamps for this for a long time – too long. They have the advantage of economy, especially because longer clamps are made by simply swapping the heads onto longer pipes. However, even with special supports and pads, they just cannot be used with the same reliable precision as parallel-head bar clamps.
Precision? For clamps? Yes. At crunch time, clamping precision matters. We use precision tools like squares, pinch rods, and straightedges to accurately assess a case or leg-and-apron assembly, looking for tiny gaps and misalignments. Doesn't it make sense to invest in accurate tools to adjust and hold those parameters at the moment when it really counts and when there's no going back?
As with most topics on this blog, I will tell you what I use and why, hoping this will be helpful to readers making choices and solving problems in their shops. I cannot offer comprehensive comparative reviews like in the magazines, just real stuff from years in my shop.
My favorite parallel clamp is the Jet. Bessey also make excellent clamps – I have some of their older model – and there are others including Jorgensen and Irwin. An alternative is the aluminum bar clamp by Universal Clamp Company, which is a precise clamp with the advantage of much lighter weight. Though a good choice for lighter work, these eventually lost out in my shop to the more versatile Jets, which are more rigid and deeper.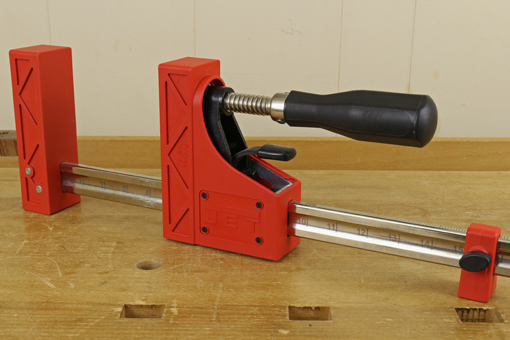 To open the Jet clamp, the head is released to slide freely without catching by lightly pulling up on a lever under the handle. The head can be advanced to close the clamp without using the lever. I really like how the thread action engages immediately when the head is set into position. There is no lag or confusing need to lift or lower the handle for any of this.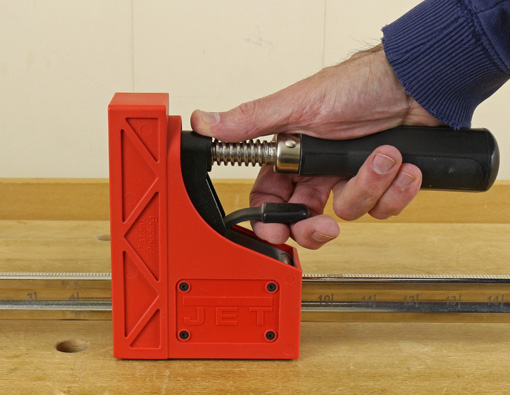 The long side of the firm, glue-resistant head extends more than four inches. In some situations, the work piece can also be placed on the side of the bar or under the short side of the head where there is about ⅝" extension. I like the large diameter handles that give good moment when tightening. To really sock down, use grippy gloves.
The inch scale on the bar is handy when readying a bunch of clamps, such as in edge joint glue ups. There is also a simple moveable support for the bar.
More to come on clamps and clamping.