• Saturday, November 09th, 2013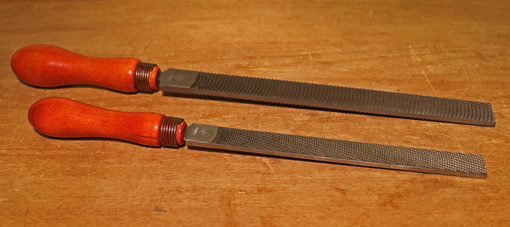 The teeth of a traditional woodworking float, very much unlike a rasp, span the full width of the tool. The cutting surface looks somewhat like a super-wide ripsaw. Iwasaki floats share some characteristics with traditional floats but have important differences in design.
These modern floats are remarkably smooth cutting and leave an amazingly smooth surface on the wood. They have almost no tendency to "catch" on the wood. They also allow great control to produce a true surface, such as in making fine adjustments to tenon cheeks. Aside from very hard steel and very sharp teeth, these floats have interesting features that contribute to their wonderful working properties.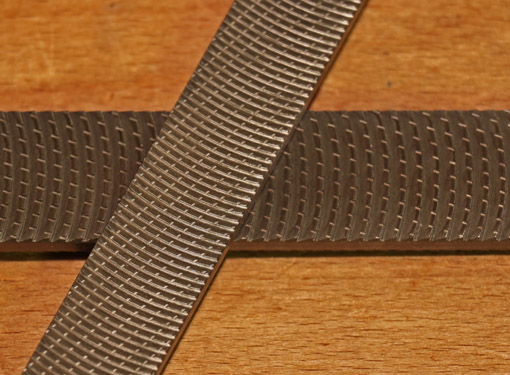 As you can see from the photos, unlike a traditional float, each tooth row is discontinuous across its width. Furthermore, each row is curved so that most of the cutting edges are presented to the wood at a skew to the length of the tool. Each gap in the row is followed by a cutting edge just behind it. In this way, these tools act similarly to a segmented spiral cutterhead in a thickness planer, which is also very smooth cutting and produces small shavings and tearout-free surfaces. 
This also helps reduce clogging in the floats. The wood that does accumulate in the grooves is easily cleared by tapping the tool or, more thoroughly, by brushing.
Click on the thumbnail (below) to see the macro photograph and note that below the leading faces of the teeth is a small curvilinear bump. This acts as a chipbreaker, further facilitating a smooth cut without tearout.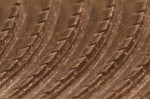 It is easy to get the feel of using these tools – use a firm but gentle approach to the wood. However, keep in mind that a skew is built in to the cutting edge. Since the tool is "pre-skewed," your natural tendency to skew it as you would a rasp might work against you. If you use a skewed stroke, the actual presentation to the wood of one side of the tooth line is being less skewed and may tend to catch. The other side is being more skewed, and the tooth line may tend to slice along its length. This is more intuitive than it sounds and you will quickly work out an effective approach with the tool for the particular task at hand.
I've been using the 200 mm fine flat model for a few years now, and recently bought the coarse 10″ flat model. Even this, the coarsest grade, leaves a nice fine surface on the wood. The chamfer in the enlarged photo (below) is directly from this float.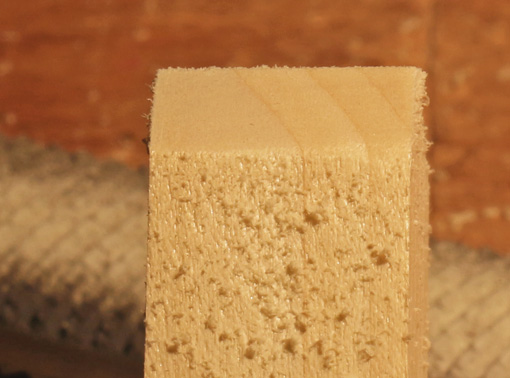 Iwasaki floats come in coarse, medium, fine, and extra fine grades, and flat, half-round, round, curved, and plane maker's models. Woodcraft, Lee Valley, The Best Things, and Highland Hardware have good, though different, selections. They're a good buy.