• Thursday, January 26th, 2012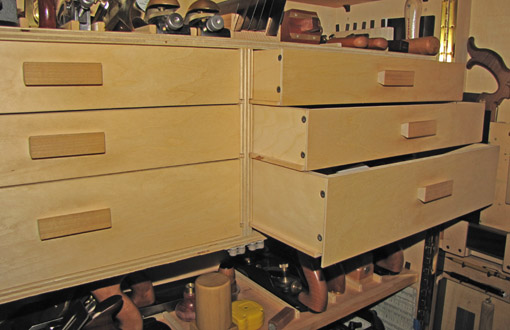 The six drawers are very simply constructed. Half-inch poplar 5-ply is used for the front, sides, and back, and 1/4″ maple-faced plywood for the bottom. The sides and bottom are glued and screwed into rabbets in the front piece. The back is butt-jointed to the sides. The bottom extends out from the sides and is screwed to the sides and back from underneath.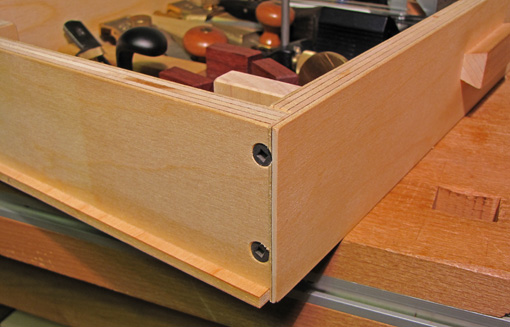 The bottom runs, with a little paraffin, in 1/4″ x 1/4″ dadoes in the cabinet side and the center partition. The piano hinges get in the way of the dado but no problem, just hacksaw out tiny squares in the hinge to clear the way. The drawers have not failed in 25 years.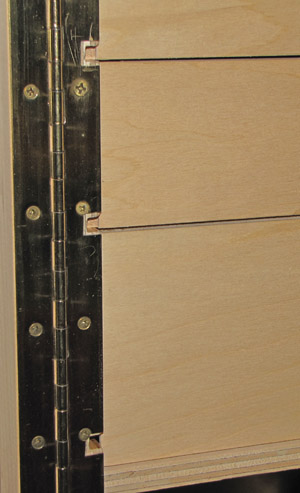 Let's take a look inside.
The upper right drawer contains small planes, layout tools, and coping and fret saw blades. Notice the compartments on each side for plane blades, pairs of which are stored with their beveled faces together. The bottom of the drawer is lined with Zerust material, a soft rubbery mesh which emits harmless corrosion-inhibiting vapor. This material is grippy like a router mat and so prevents tools from shifting, bumping, and rattling when the drawer is open and closed. It lines all the drawers.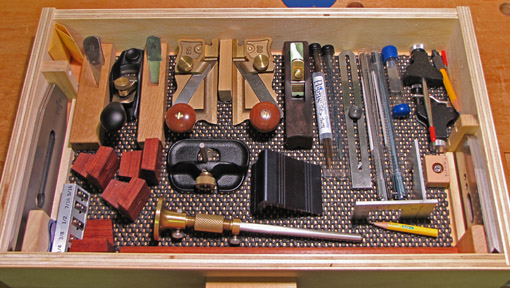 Next below, the rasp drawer is the most engineered of the group. 1/8th-inch MDF slats are held in the slots of stick-on plastic divider holders. The spaces so constructed are wide at one end and narrow at the other to make maximum use of the room in the drawer. The divisions can easily be rearranged and, of course, have been many times.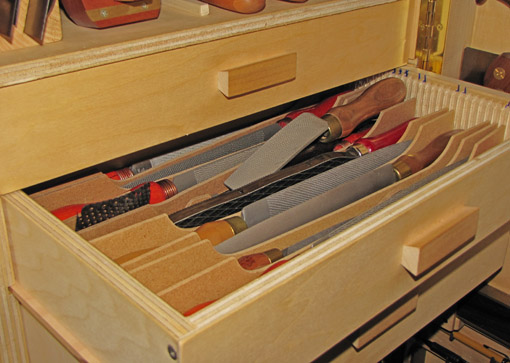 Next below is the most jumbled drawer containing machine accessories such as wrenches, tiny parts, router template bushings, and so forth. The top drawer contains sets of coping and fret saw blades (hand tools) in plastic tubes, but this drawer has power jig saw blades in the same type of tubes. This is an example of my preference to group tools by general class, when practical.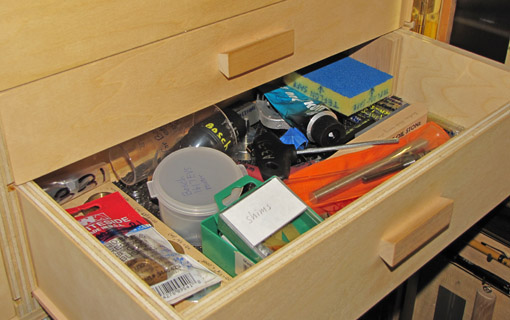 The three drawers on the left side also each contain logically grouped tools. The top left drawer has metal files, small diamond hones, metal cutters, and so forth, while the drawer below it has adjustable Starrett squares and other layout tools, and below that are drilling accessories.
The storage – divided or free-form – is appropriate to the tools. Thus, spanner wrenches get jumbled together, tiny shims get stored in a plastic box, while edge tools, rasps, and precision layout tools get the protection they need.
Next: summary and conclusions.