• Sunday, February 13th, 2011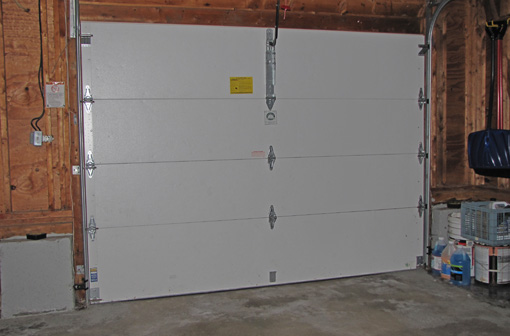 Does the door to your home woodworking shop look like this?
Many, if not most, home woodshops are banished to the garage. There the floor is usually concrete, it is often cold, and, worst of all, the area is intermittently shared with a car, lawnmower, and the accumulated junk of modern life. Is this a good place for your beloved tools and woodworking?
Of course, there may simply be very limited options – a garage shop or no shop. Maybe other awkward or uninviting places such as a hallway (been there) or the basement dungeon (been there too) will have to do. In fact, maybe the garage or basement can be improved to become more comfortable and pleasant.
However, at least consider using a room in the house for your woodshop – yes, a real room. For at least the workbench and hand tools, a small room will do just fine. The machines and most of the wood storage could stay in the garage, maybe with some help from the attic or even a closet.
Isn't the TV, excuse me, the home entertainment system, a higher priority? And what about the rest of the family? I don't know, you've got to work that out for your situation. The point here is this: if woodworking is important to you, consider using important space for it.
Many people devote considerable space, time, and money to passive entertainment, with which I feel our society is too preoccupied. Many people seem to seek an almost continuous stream of it. I have nothing against entertainment, but it is the balance that I question. There is likely more fulfillment and joy in free hours devoted to creativity – wood, word, music, etc. – than in a video game. We make our choices.
I suggest considering what is valuable to you and have your living space reflect that, within the bounds of practicality, life's compromises, and the needs of those near and dear to you. Good luck and happy woodworking.