• Tuesday, August 21st, 2018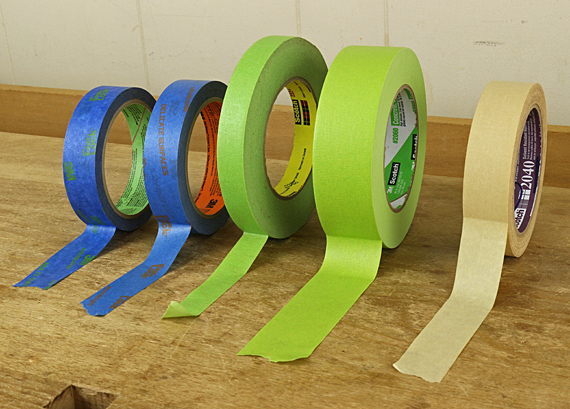 Funny that tape is even used in the woodshop where we sweat over joints, glues, and fasteners to keep things together. Nonetheless, a variety of tapes serve all sorts of duties, and it pays to be familiar with the options. From among 3M's numerous tapes, here are the ones I have found useful, working from left to right in the photo.
The workhorse is the #2093EL blue painter's tape, rated "medium adhesion, 14-day removal," very similar to the original #2090 but with Edge Lock (EL), designed to give cleaner paint lines for painters. This is handy stuff – as a drill bit depth indicator, marking the floor locations of machines, reminding myself not to reset a gauge, and on and on. For shim purposes, it measures .004″ thick by my calipers. 1″ width is versatile.
Second from left, #2080EL "low-medium adhesion, 60-day removal" is smoother and thinner at .003″. I like this one better for taping off areas to protect them from glue squeeze-out. It's not a big difference for our purposes from #2093. The EL tapes do seem to lay down to a neater edge.
The green tapes are interesting. The thinner green roll is Scotch #233+, which 3M renamed to #401+. It has significantly greater adhesion than the blue tapes, and it is stretchy. It was developed for heavier-duty use such as conforming and holding to auto body contours. For woodworkers, it makes a great light-duty clamp in situations where regular clamps are awkward to arrange, such as gluing edge trim or small miters, especially with CA glue. It is much better in this regard than the blue tapes.
However, the green #2060 (fourth from the left) is more widely available than #401+, and can be found in home centers in a variety of widths. #2060 is practically as good as #401+: adhesion and tensile strength are nearly identical, and at 8% elongation before breaking, it almost as stretchy as 401+, which has 10% stretch. Both remove cleanly.
The beige tape on the right is #2040 Solvent Resistant tape. I use this infrequently to mask off an area from a solvent-based finish.
Surprisingly, the tensile strength of all of these tapes is about the same, from 24-27 lbs./inch of width.
So, let's simplify. I suggest go to the orange palace and get a 1″ roll of #2093EL for general use, and a roll of 1 1/2″ #2060 for stronger adhesion and clamping. I covered the background info and the other options in case you need them.
Next: other tapes including . . . the Shop Miracle.