• Wednesday, April 01st, 2015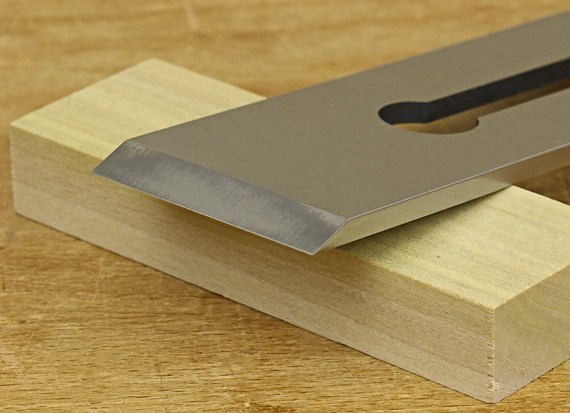 A new steel developed at the Japanese Institute of Engineering and Metallurgy holds tremendous practical promise for all who use sharp blades, including busy woodworkers. Though not yet ready as a marketable product, it appears to have the potential to be a complete game changer. Here's the details.
The key feature of this steel is its ability to, in effect, self sharpen. By combining sophisticated powdered metal technology with several unconventional alloying elements, the researchers have been able to produce a unique grain structure in the steel. Whereas a sharp edge in any conventional steel wears by "dropout" of iron, alloy, and carbide grains, which leaves behind a degraded surface and edge, the newly developed steel product wears in an entirely different manner.
The grain structure in the outer few microns of this steel gets compressed just before it wears. When metal wears away, it does so in minute thin "flakes," leaving behind a surface – and a cutting edge – that is as polished and keen as it was before the wearing process started.
In fact, once properly sharpened, the edge actually becomes slightly sharper as it wears in this unique manner. It is as if the wood that is being cut by the blade's edge acts as a very slow sharpening "stone". There is a limit to how long this process can persist simply because the volume of steel near the edge is gradually depleted.
However, in personal communication with Dr. I. N. Sano, the lead scientist on the project, he predicts the sharpened edge of a smoothing plane would be expected to last through about one year of regular use in a typical hand-tool-based woodshop! Dr. Sano remarks that, "Woodworkers are going to be amazed at not only how long a cutting edge in this steel can last but how it actually improves with use. The traditional routine of continually resharpening plane blades and chisels is going to become a relic of the past."
The details can be found in the latest issue of the Institute's bimonthly journal but a full English translation is not available at this time. A brief introduction is reproduced below, with permission.
ここで問題の真実は、ケースにあなたが興味を持っている、である
あなたがこのナンセンスのいずれかを信じるなら、よく、あなたは、日付をチェックしていない。それとも、素早く、簡単にすることができます木工誇大広告、そして確実なことするたびに信じるものだまされやすい木工の一つです。申し訳ありませんが、それだけで何か他のもののように、練習と勝利と一緒にいくつかの障害がかかります。
The development group estimates that the new steel product will be available to tool makers by the end of this year. After a bit more tweaking, it is expected to have very favorable working characteristics for blade formation. I will keep readers posted with new information on this wonderful innovation that really has the potential to change the way we all work in our woodshops.
Sano-san has informed me of a single drawback to the new steel. It will only be produced on a single calendar day each year, namely today, which is named in honor of all those who believe that high quality woodworking is easy, quick, and every step is a sure thing every time.