• Monday, March 07th, 2011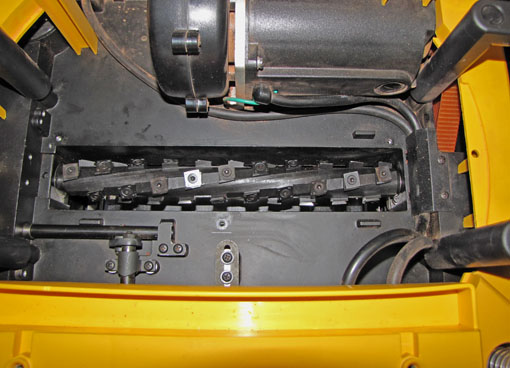 I have had my eye on carbide segmented cutterheads for a while. After studying the options and particularly after reading Glen Huey's excellent article in the February 2011 Popular Woodworking, I decided to get the Byrd Shelix cutterhead for my DeWalt DW735 planer.
Most of my pieces use highly figured woods. I had been having trouble getting good surfaces from the planer on some of these difficult gems of nature, despite using appropriate technique. I don't expect a machine planer to yield a finished surface, of course, but tearout surprises can require corrective handwork sufficient to change dimensions and relationships. Parts meant to match and reference surfaces were disturbed; there was too much backtracking and unpredictability. This affected my work flow and was frustrating.
In considering a segmented cutterhead, I first had to decide if the DeWalt DW735 was a good enough machine in which to invest. After years of use, its design, quality, and reliability are proven. So, primarily for the joy of using my beloved figured woods, I took the plunge: $447 for a Byrd Tool Shelix – "she" for shear, and "helix". (Sounds like a part to soup up a motorcycle or something.)
Below is the Shelix in all its medieval-looking glory. Thankfully, it comes with the bearings attached. 

In future posts, I will discuss the basic design and performance of the Shelix, and how this tool is integrated into the work flow of a project. The latter issue is the most important one and required the most thought to make this a sensible investment.
The post immediately following this one lists tips for installing the cutterhead.