• Thursday, October 20th, 2011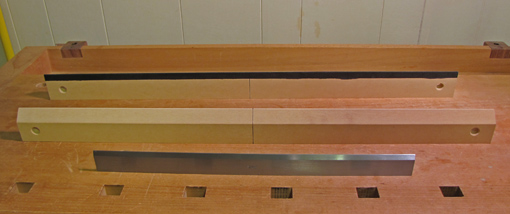 It can be argued that a straightedge is unnecessary. When using a handplane, for example, a woodworker can sense the flatness of a board from the bite of the blade and the shavings produced as the work progresses. As another example, the ultimate test of an edge-to-edge glue joint is how the boards meet each other rather than an external standard. You would, however, mostly have to just trust that your planes' soles, tablesaw top, jointer beds, and so forth are accurately flat.
As a practical matter, a high quality straightedge is a fundamental reference tool that is very useful in the shop and is easy to acquire. I prefer factory-made metal straightedges, but wooden straightedges can be made in the shop to a very high standard. 
Here's a simple method:
Start with two pieces of a stable, fine-textured wood such as mahogany or cherry, quartersawn, flat, with straight grain, about 2″ wide, 18″ – 30″ long, and 3/8″ – 1/2″ thick. MDF will also do. Join the two pieces face to face by clamping, or by pinning with nails or dowels that are snug but removable. Bevel a pair of adjacent edges to make each 3/32″ – 1/8″ wide.
Now plane both the thick and the thin pairs of edges as flat as you can. I think the easiest way to accurately plane the edges is to shoot them. Put the plane on its side, clamp the pair of sticks on a flat board with a pair of edges overhanging, and plane away. Uncouple the pieces and check the edges against each other.
You can start off by simply ripping each piece on an accurately set up table saw and then go to the planing steps.
Because two edges are being planed together, they will have the same type of inaccuracy – concave or convex – at the same places. The inaccuracy will be effectively doubled when you place the edges against each other and compare them against a lighted background. [There is no realistic possibility of creating a falsely acceptable result by producing one concave edge which happens to mate with the other edge being symmetrically convex.] Work until you achieve whatever level of accuracy that you think is practical for your work.
You now have made two straightedges AND a pair of winding sticks!
I made the 30″ winding sticks, pictured above, from 3/4″ MDF. Only minimal planing was required to refine tablesawn edges. They're good to about 0.001″ over their lengths. I use them only as winding sticks, which is another topic for another time.
For straightedges, I like steel and, in some cases, aluminum. A quality metal straightedge, such as a Starrett, is accurate to an extremely high tolerance and has the advantage of durability. I like the weight, contact feel, and affordability of a steel straightedge in lengths up to 24″. For longer ones, aluminum keeps the weight and cost down. Properly cared for, these tools will last a lifetime.
Next: a selection of straightedges and techniques for using them.