• Sunday, February 10th, 2013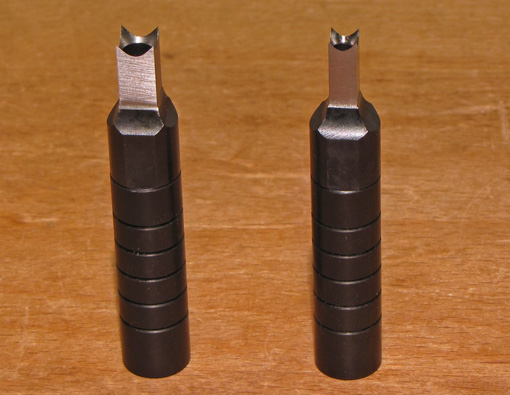 Lee Valley Tools recently made available Square Hole Punches that easily form a square hole for filling with a square peg.
A simple peg or, even better, the drawbore method, are time-tested ways to reinforce mortise and tenon joints. I prefer the look of a square peg, but it is much easier to use a round peg inside the joint. I have tried various methods such as whittling the lower portion of a square peg into a roundish shape. Still, it is fairly tedious to neatly form the square portion of the hole with standard tools.
I have tried using a corner chisel and experimented using a hollow chisel mortising bit for this. Despite some success, I was still not happy with those methods. Lee Valley has made this much easier with their Square Hole Punches. Please see their website for how they work. I've tried them out in the shop and they work well.
They are well made and cleverly designed – except for one problem! However, I think this problem could be solved by adding some options to another one of their new tools, the Dowel Former. I sent the following message to Lee Valley. I invite your comments.
Hi Lee Valley folks,
I would like to suggest a coordination between your excellent Square Hole Punches and your new Dowel Former.
As you know, the diameter of the round hole in each Square Hole Punch is 3/64″ less than the size of the punch. I think I understand why. If the hole were larger, the thickness and strength of the wall of the punch would be compromised. If it were smaller, it would be too hard to drive the punch. Because the punches are sized in common convenient measurements, such as ¼" and 5/16″, the holes are necessarily odd sizes in the 64ths, such as 13/64″ and 17/64″, respectively.
However, when using the punches, I would like to use the drilled hole to insert a round peg for the mortise and tenon joint, and then fill the square hole with a square plug. I think for many woodworkers that would be the major benefit of the Square Hole Punches. However, to my knowledge, dowels are not available in odd sizes such as 13/64″, 17/64″, etc. Machining my own dowels is a hassle I would rather avoid. Whittling them to those sizes is tedious and inaccurate. True, I can make my own dowel plate but it is not likely to be as good as what you can manufacture, and I like working wood more than metal.
One solution would be to make the Square Hole Punches a bit larger, so that the holes would be in 32nds. For example, the ¼" punch could be 17/64″ and its hole would then be 7/32″. But, once again, who has a 7/32″ dowel? Not a good solution. Another approach would be to make the punches in sizes such as ¼" + 3/64″ = 19/64″ and  5/16″ + 3/64″ = 23/64″ so the round holes will be handy diameters, namely ¼" and 5/16″, respectively.
Enlarging the round hole is not a good solution. It would likely create inaccuracies and sloppiness, especially since enlarging it up to the next common dimension would make its diameter equal to the width of the square hole.
I think there is an easier approach. I suggest keep the Square Hole Punches just as they beautifully are, and make inserts available for your new Dowel Former to form dowels which fit the holes in each of your Square Hole Punches. I suspect this could be done relatively easily without a lot of retooling (unlike altering the sizes of the punches), and, if I understand correctly, you manufacture the Dowel Plate at your facility since it is a Veritas tool.
I present this suggestion in the context of having the highest regard for your company and the contributions you have made to the craft of woodworking. I plan to post this suggestion on my blog at www.rpwoodwork.com/blog and invite comments, as readers so often come up with good ideas and constructive suggestions.
Thank you very much,
Rob Porcaro