• Friday, June 12th, 2009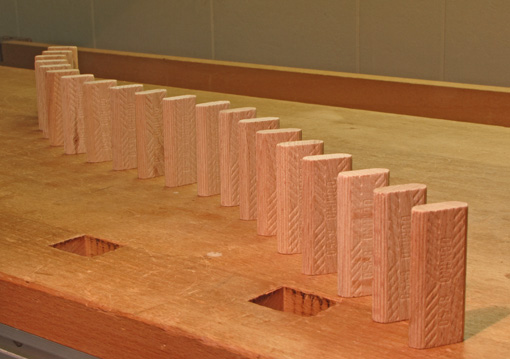 Since buying the Festool Domino joiner about a year ago, I have developed some notions from the viewpoint of one who values hand tool woodworking. Machines, especially one this innovative, can change the way you work, but not automatically for the better. This tool is an invention to facilitate joinery. The principles of good joinery were not reinvented and should not be abandoned for the lure of a new gadget, even one this good.
Am I glad I bought the tool? Yes. Would I use this to join the legs and aprons of a dining table? No, the tenons are too short and do not give me enough options, such as haunched tenons. Does the Domino replace traditional mortise and tenon joinery? Not a chance.
Here are some impressions from working with the Domino:
Holding the work and registering the Domino fences on the work surfaces are critical to success with this tool. The plunge must be parallel to the face of a frame member or perpendicular to the surface of a leg.
Use the thickest, longest, and most dominos that reasonably fit.
When assembling, apply glue on all surfaces to ensure wetting – generous on the mortise walls, light on at least first half of the portion of the domino that will be buried in single mortise.
Lightly chamfer the entering edges of the domino to help distribute the glue on the mortise walls and prevent it from being scraped off.
The surfaces of the dominos seem somewhat burnished. Consider lightly sanding them to improve glue wetting, but not to remove thickness.
Consider putting a bit less of the domino in the long grain member and more in the cross grain member to make it act like a longer tenon. Adjust the mortise depths accordingly.
It would be helpful if Festool made additional dominos sized for the full width cut (i.e. mortise length) which is 9.5mm (3/8″) wider than the domino. You could make your own. (Hey, Festool…)
Longer dominos would be better but that would involve a different machine design.
The dominos fit very tightly in the narrowest mortise length (13.7mm + bit diameter). If you do not have room or do not want to use one of the longer mortises, you can get a slight play by sanding off some of the width of the domino. I use a horizontal belt sander to do this quickly.
On the earlier version of the machine with the metal registration pins (which I own), it would be better if the pins could fully retract when you do not want to use them, especially when they happen to be close to the edge of the work piece.
Bottom line: this is a good tool, but to make good projects you still have to be a good woodworker.
Much has been written about the Festool Domino joiner including reviews here and here, helpful discussions at the Festool Owner's Group, and an excellent supplemental manual.