• Wednesday, November 12th, 2008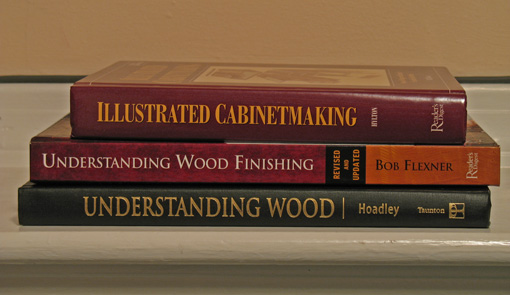 There are so many excellent sources to read for woodworking skills that it is difficult to sort through what is available to come up with recommendations. So I will start here with three selections that are easy choices, clear gems, first ballot hall-of-famers.  
Understanding Wood, by R. Bruce Hoadley, may be the one book that I would say every woodworker should have. One cannot go very far in improving woodworking skills without understanding the material and no source is better for this fundamental knowledge. Dr. Hoadley, professor emeritus in the Department of Building Materials and Wood Technology at the University of Massachusetts, Amherst, shows how the biological structure of wood determines its physical and working properties. This is not disconnected science but rather is practical knowledge that will make you a better woodworker. First published in 1980, it was revised in 2000. (The free Forest Products Laboratory Wood Handbook is a good backup to Understanding Wood.)
Illustrated Cabinetmaking, by Bill Hylton, is a wonderful go-to book when you're contemplating a project and need to study the options for how to put something together. What are the choices for constructing drawer runners? How much elbow room is needed for a person at a dining table? What are different ways to design a chest of drawers? If a martian landed on earth and wanted to learn as quickly as possible how humans build furniture, I'd hand him this book.
Understanding Wood Finishing, by Bob Flexner, doesn't just show you how to finish wood, it brings you to an understanding of the subject so that soon you'll be answering your own finishing questions. I think Bob Flexner's book and his articles in Popular Woodworking magazine  (and a nice collection of many of his articles ) are not only some of the best explanatory writings in the field of woodworking, but some of the best I've read on any topic! (I'm not worthy…)
Being always a student of this craft, I will in this blog continue to revisit the topic of learning resources.