• Monday, August 31st, 2020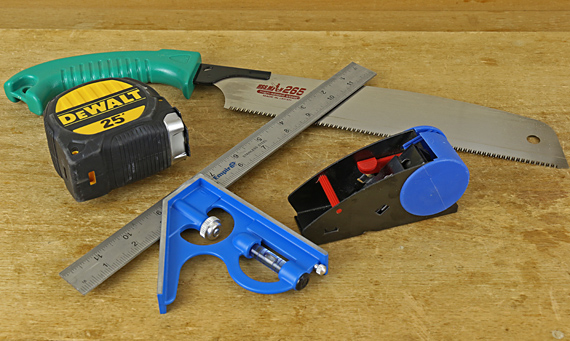 I do not like to use my high-end edge tools for rough and tumble DIY projects where a sharp edge has a good chance of meeting up with a nail. Similarly, precision hand tools such as a Starrett square have no business sliding about in mystery debris.
So, even though my classy hand tools are fully capable of handling rough jobs, I prefer to use my set of utility tools for most repair work on the Magic House. ("Magic," you know, because it makes my time and money disappear.)
There are a couple of ways for a serious woodworker to accumulate these DIY tools.
You might buy them specifically for such work. Good examples are above. The little Rali block plane has replaceable blades. It does not seem to be available any more but most any cheap pocket/block plane will do. That cheapo square is actually decently made and pretty accurate. The DeWalt tape is also the one that comes with me on wood buying trips.  
Sometimes, especially early on in learning woodworking, we try to save a few bucks by buying a tool that seems good enough, but later proves to be a poor call for fine work. That is how this old Stanley chisel has survived all these years. It easily sharpens to a decent edge that I don't mind abusing for DIY work. I replaced the round rasp with a hand-cut version but the cheap one is just fine for enlarging a rough hole in plywood. The screwdriver makes a great paint mixer and general hacking/prying tool.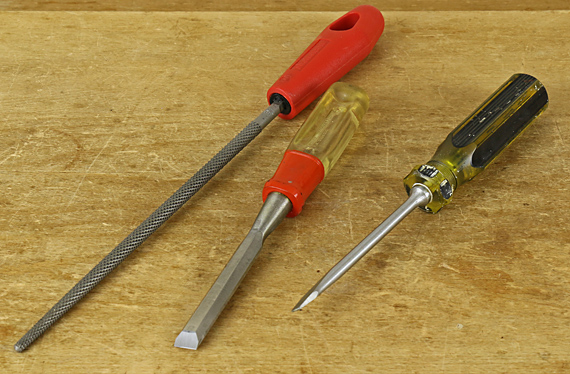 Maybe you did not recognize the value of quality tools, or maybe you just did not know how deeply you were going into woodworking. Either way, an upgrade does not always mean waste. 
The take home point: Do not buy tools for their own sake. A tool has a purpose. Match the tool to the job – the one at hand or even the one to which you aspire.