• Thursday, May 07th, 2020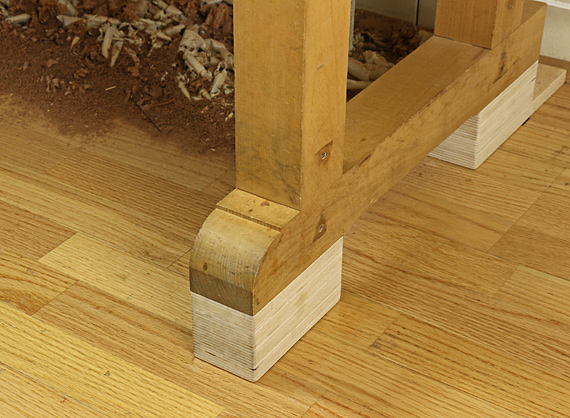 In a 2011 post, I argued for an empirical approach to determining your best workbench height instead of relying on any formula. The many variables in body characteristics, woodworking styles, and tools necessitate practical testing.
Consider the tasks you do at the bench, such as planing, sawing, and chiseling, and the portion of time and effort you are likely to devote to each category. Then find a workbench, Workmate, or a sturdy table to try the work at different heights created by clamping layers of boards or plywood to the table. Find what feels best all-around.
Maybe your ideal bench height will change over time as mine has. Recently, after assessing how I was working, and then testing just as I recommend to others, I raised my bench almost two inches to 37″. I feel more comfortable overall, particularly being able to stay closer to a neutral head posture. I can reduce the bend in my neck, which reduces stress on the lower cervical vertebral joints.
On the other hand, I can feel that the higher bench height transfers more of the work of certain tasks such as heavy planing to my upper back and arms. Fortunately, I've maintained good upper body strength, especially in the upper back and shoulders, so I don't seem to miss the reduced drive from the ground. In fact, firming my upper back as I work actually further removes stress from my neck.
I used long #14 screws to attach a glued stack of Baltic Birch plywood to the base of the bench, replacing the previous riser blocks. 3M Safety-Walk slip resistant tape applied to the bottom along with filler blocks between the bench and the back wall do a great job of keeping the bench stable in all directions.
"Assess your stress" and work habits to make your shop time more efficient and pleasant.