• Wednesday, August 23rd, 2017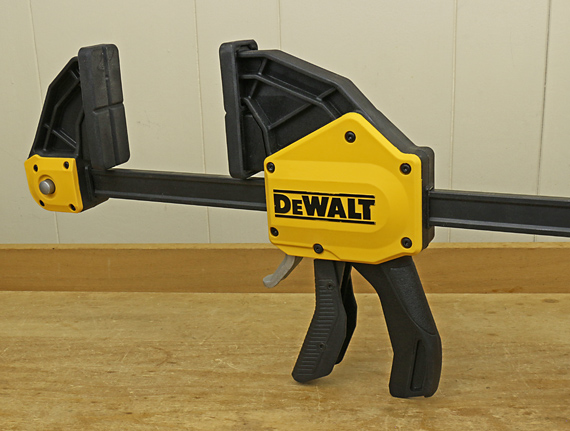 Of all the squeezy clamps that I have tried out in a store or used in the shop, this is the first one that I can reach for with confidence.
The tightening handle is big and comfortable, making it pleasant to apply the rated 600 pounds of force. The bar is a sturdy I beam. The release trigger is readily accessible and has a nice curve onto which I can hook my finger, making it easy to release the clamp pressure. And my fingers do not get bumped in the process. Most of the other clamps of this type that I have tried out have an annoyingly uncomfortable release.
What I like most are the large rectangular pads, which are almost like those of a parallel bar clamp. The throat depth is about 3 3/4″. The pad material is just right – soft enough to protect the work but not squishy. The fixed jaw can be easily reversed to use the clamp as a spreader.
Squeezy clamps are wonderfully handy for bench work, but have a tendency to shift the workpiece alignment when used for assembly. This is inevitable if you squeeze down the force in one fell swoop.
I suggest the following technique to avoid workpiece shifting. Gradually pump in the jaw contact while maintaining the workpiece alignment with the other hand, readjusting it if necessary. As you take up the toe-in of the jaws (which is mostly in the moveable jaw) and build just a little bit of pressure, the clamp itself will stabilize. This is the key moment because then, and only then, can you bull down the force and the workpiece will remain stable. I usually find it best to hold the fixed jaw against the workpiece and advance the moveable jaw into contact.
You can find them at the orange palace and elsewhere.
This review is unsolicited and uncompensated.