• Monday, July 31st, 2017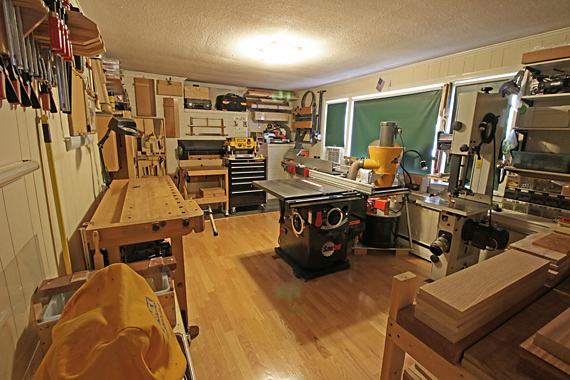 Here's a question just for fun. In the past 30-40 years, which advance in tooling has made the biggest practical change in small shop furniture making? An individual tool, a type of tool, or a major upgrade in a tool category, hand or power, all qualify.
The answer will depend on the definition of "small shop." What I have in mind is what I most relate to, which is the one-person shop making high-end furniture and accessories. Such a shop produces one-of-a-kind pieces or very few repeats, and may be an amateur at home, or a professional, whose furniture making is only part of his income.
OK, with that in mind, drum roll . . . my vote is for the Ryobi AP-10 portable thickness planer, which was first made in about 1985 or 1986, as best I recall. This humble machine, which I owned back then, was the first lightweight, portable, low-cost way to easily and quickly thickness large quantities of wood. The Ryobi begot improved competing models, such as the much later DeWalt DW735.
For the small production shop, I am guessing CNC, along with CAD, has made the biggest difference. For shops of any size, the overall improvement and proliferation of carbide-tipped tooling – router and shaper bits, table saw blades, bandsaw blades, jointer/planer cutters, etc. – may be the biggest advance.
To impart the touch of quality that is only possible with hand tools, we must, of course, acknowledge the roles of first, Lie-Nielsen, and then, Lee Valley/Veritas. More than with vintage tools, new Mercedes-quality handplanes became readily available and indeed, the standard, which elevated everyone's work. As a tool category, this may be the most significant advance. The same evolution occurred in Western hand saws, culminating, in my opinion, in the Bad Axe line.
Other tool categories that came to mind in thinking about this include: greatly improved tool batteries for cordless tools, the wider availability of high quality steel-frame bandsaws sized for the small shop, the wider availability of wide over-under jointer-planers, and the availability of excellent Japanese hand tools. For individual tools, the biscuit joiner, Saw Stop table saws, and Japanese waterstones deserve some notice but I would not consider these pivotal.
Oh, and there is one more "tool" that, come to think of it, probably has made the biggest difference of all: information! Books, magazine, video/Internet, classes, and so forth have tremendously advanced the joy of good woodworking.
It's all good. We are fortunate.