• Wednesday, July 26th, 2017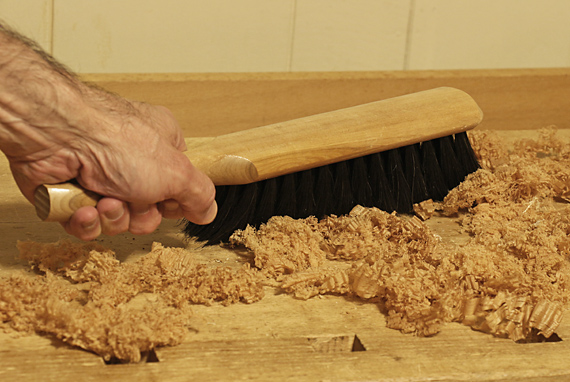 Uh oh, I was just thinkin' again.
Yes, yes already, I understand the merits of hand tool woodworking (read here). Yet, we must acknowledge that pure hand tool woodworking is almost non-existent. Rather, we just have different points at which we decide that the work is best done, for whatever reasons, by putting aside machines and taking over with hand tools. For some, that point is after the wood leaves the sawmill; for others it is when the final chamfers are added. Really, there is a spectrum of approaches to woodworking that gives all woodworkers a great deal in common: we build stuff.
Router spindle locks are a ridiculous idea. Two opposing wrenches produce more torque with more comfort and safety. Some routers with spindle locks also have flats on the spindle on which you can use a second wrench in conjunction with the one for the collet nut. Manufacturers, including the one that makes yellow tools, please, stop the madness.
I'm pretty sure that you have a project in mind that is coming from your soul. It will challenge you, and give you great joy. Please, please, build that as soon as you can. And stop making another box for your chisels, or whatever.
If someone was to ask me for suggestions for getting a set of sharpening equipment from scratch, I now think I would be remiss by not recommending diamond stones for the bulk of the work. Add a CBN grinding wheel to speed the grunt work, finish off with a very fine ceramic finish stone, and you are very good to go.
Anyone of any demographic group, including women, is welcome by me, and, I believe, by the overwhelming majority of woodworkers, to come aboard and work wood. Those currently in the minority should not be discouraged by the very few fools who will only accept the historically typical demographics of woodworkers, nor by the reactions of others that are not ill-intended but come simply from not having updated one's habits. Moreover, those currently in the minority do not need special enclaves for those in their category. Neither is coddling needed; just welcoming. Just work wood! You and the world await what you build. Now go ahead, tell me that it's not that simple. OK, perhaps not, but I do think it does ultimately come down to just that.
Having had the Domino joiner for nine years now, my trust in the system has gone down, not up. Sorry Festool enthusiasts, the same goes for Festool in general.
Until you understand the following rule, to which I can think of no exception, you will not fully comprehend shop safety with power or hand tools. A tool edge, given the opportunity, will always move the work piece (or part of it) instead of cutting it. As examples, that is the essence of kickback on a table saw, and a drill bit or router bit grabbing the workpiece. The edge needs to be sharp, yes, but its mechanical options must be limited by the tool design, your setups, and your actions.
Believe it or not, if you need some decent red oak, maple, poplar, and even walnut, and are buying a small enough quantity so that a higher unit price doesn't hurt too much, the Home Depot is a pretty good, convenient option. And they have no idea that the random curly board that you might find is a great buy.
Creative work is ultimately an exercise of free will to make something – a unique information set – that transcends oneself. Where does that free will come from, if not a gift from God?