• Monday, March 13th, 2017
Ulmia used to produce this auxiliary vise, model #1812. I first saw it many years ago on page 145 of my copy of the 1977 hardcover Van Nostrand Reinhold edition of The Fine Art of Cabinetmaking, where the author, James Krenov, commented that it is "well made and very useful."
I wish I bought one before Ulmia discontinued production. I have tried with some success to use a modified small drill-press vise, a shop-made wooden vise, and handscrews to gain some of the functionality of the Ulmia. Still, I coveted a real #1812 hilfs-spannstock.
About three years after posting the above links, and missing out on Ebay in the meantime, someone from Germany contacted me to offer a new-old-stock #1812. I jumped at it and have since found it to be every bit as useful as I had anticipated.
The vise jaws are 2 3/8″ x 1″. The fixed jaw is further from the knob, while the other jaw moves on a 9/16″-diameter, acme-threaded screw feed to produce a maximum opening of 2 1/8″. The wooden base is 5 3/4″ x 3 1/4″ x 2 1/2″. The vise is surprisingly beefy for its size.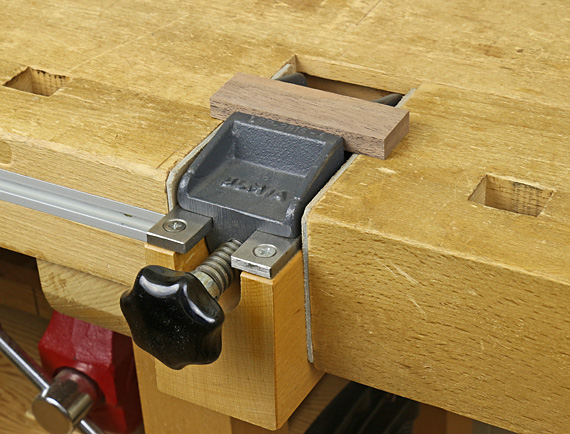 The hole in the base makes it convenient to clamp to the bench top, as shown in the top photo, for a wide variety of small-scale tasks. With the #1812 held recessed in the tail vise, as in the photo just above, the jaw still travels freely. You can adjust the protrusion of the jaws above the bench surface to keep them out of the way while planing or paring small work pieces.
It would be good to have this very useful tool back in production. I wonder if Ulmia would consider making it again, or, depending on patent restrictions, if another toolmaker, such as Veritas, would be interested in producing it. I am sure that woodworkers who would own one would turn to it often, as I do.