• Tuesday, December 20th, 2016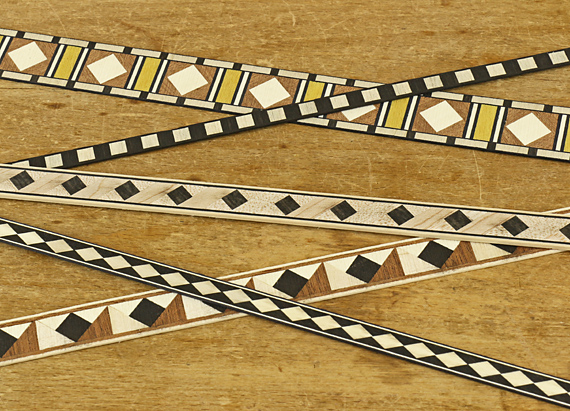 Here is another product that I think you will appreciate knowing about, which I alluded to in the previous post. It is inlay banding made in North Carolina by Matt Furjanic, sold on his website Inlay Banding.
This is beautiful material made with precision from highly select, solid hardwoods. Only some of the narrow outer stripes are made from veneers. Most of the bandings are about 1 mm (3/64″) thick – enough to work with as real wood instead of as curled up, long potato chips like some other bandings. Lengths are generally 36″.
These bandings consist of all face-grain wood, not end grain, so they look great and finish beautifully and predictably. This also makes them easy to work with. They glue well into the slot and pleasantly scrape flush to the surrounding wood. By the way, scraping works much better than sanding for flushing, especially for banding containing ebony, which tends to muddy the lighter woods if sanded.
They come in a wide selection of patterns, mostly low-key. These will enhance your projects and not be obtrusively glitzy.
I knocked together a long plywood box to safely store the bandings in my shop: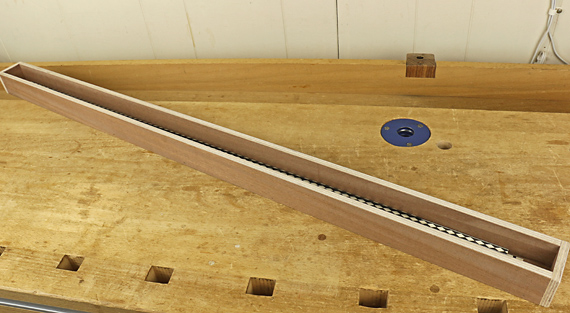 Matt also sells guitar bandings, stringing and stock for line-and-berry work, federal shaded fans, and very select thin stock for making your own inlay materials. He also does custom work, and sells some great looking boxes, which, of course, feature inlay bandings.
This is the best inlay banding material I have found. This review is unsolicited and uncompensated. The last paragraph of another post explains why I present these reviews.
One more thing. Some woodworkers may balk at including woodwork made by someone else in their pieces. This makes no sense to me. Virtually all of our work contains elements made by someone else, such as hinges, handles, locks, other hardware, and glass. And don't forget the finishing materials. It is how you use these materials that counts. Even aside from this, we have had lots of help, starting with the guys who cut down the tree, drove the trucks, milled the log, and so forth. I am happy to add expertly-made inlay such as this to my work.