• Tuesday, November 18th, 2014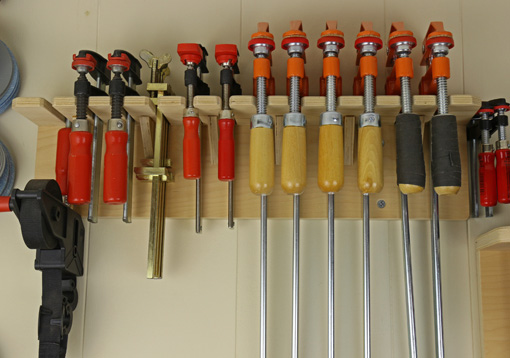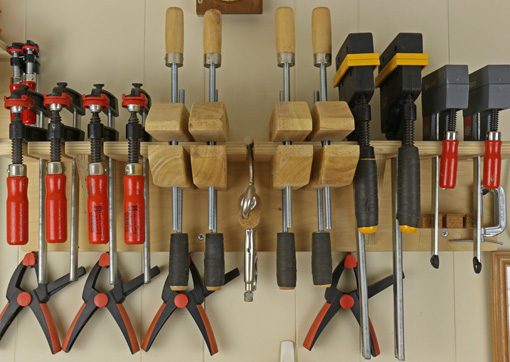 For the other clamps in my shop, I've taken down one of each from the racks and have offered comments on their utility. These choices are largely matters of personal preference and very dependent upon the work being done, but hopefully readers will find some useful information and ideas.
These little 2″ and 2 1/2″-deep Bessey F clamps, 4″ and 6″ length capacity, respectively, are used almost exclusively for stop blocks, fences, jig setups, and the like. Sometimes the clutch type is easier to place precisely. Almost any decently made brand will do for these tasks.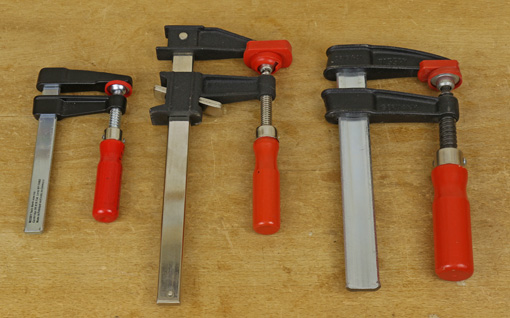 The Bessey Varioclippix 4″ spring clamp has a sliding arm that greatly expands its capacity, flat pads that make clear contact with the work, and hand-friendly grippy inserts. These features make them preferable to the original Pony steel spring clamps. I store them gripped to pieces of brass sheet screwed to the bottom of a clamp rack.
The 2″ C clamp is sometimes just the ticket for tight quarters in jig setups. The Japanese mini bar clamp is useful for very small work where a parallel clamp is needed.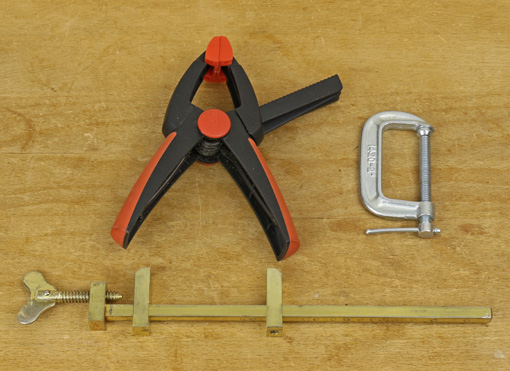 The Bessey 4″ deep x 8″ long F clamp (TG4.008 "Tradesman" 1″ x 5/16″ bar), below left, is a sturdy, reliable workhorse for a thousand tasks. The replaceable pads have never marred a work piece in my shop but they are not squishy and they stay in place. The key rigidity features are the I-beam bar and the corrugations in the malleable cast jaws. They are available in many sizes with different force ratings and handle features.
The very heavy and strong Gross-Stabil 12″ parallel clamp gives a broad, ultra-reliable hold down force. The lightweight Bessey UniKlamp is useful when the precision of a parallel clamp is needed on a small scale. The rectangular heads work well as stop blocks themselves. The balky engagement of the head is typical of Bessey parallel clamps.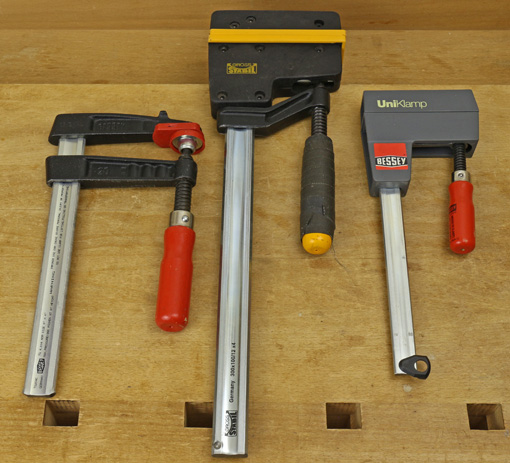 I don't know when I'll next need this 7″ deep, heavy F clamp but I'll be glad I have it then.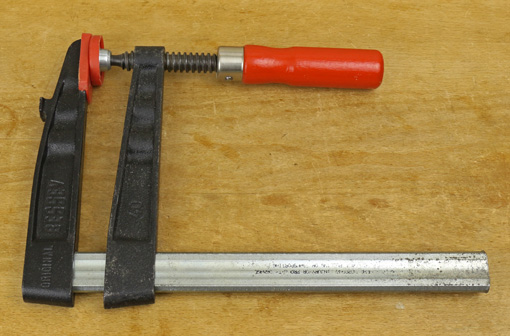 It is hard to overstate the versatility of the venerable wooden handscrew. Much of the magic of this tool derives from the ability of the rectangular wooden jaws to clamp as well as to be clamped. This allows creative arrangements that can solve lots of work holding problems. Final tightening is done with the outer handle, so the cloth friction tape is a big help there.
Excellent quality handscrews sold under many different brand names are made by the Dubuque Clamp Works in Iowa. Maybe I am the only person who finds the non-drying oil "finish" on their clamps annoying. It can transfer to some woods when the clamp is tightened hard, and in any case, seems unnecessary. I like the Besseys, which don't have this issue and seem to work as smoothly as the ones from Iowa, though the latter are available in a larger range of sizes.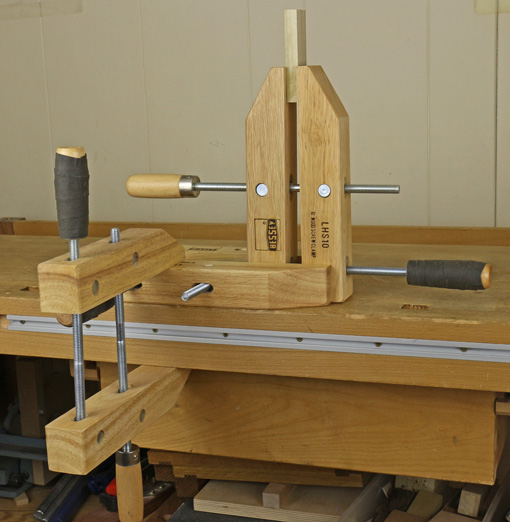 More clamps coming up.