• Saturday, February 09th, 2013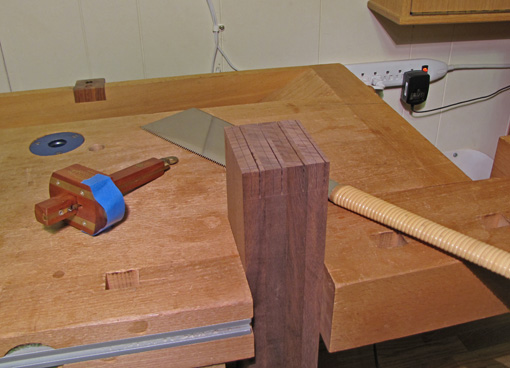 Here are more morsels of shopology from the "sawdust and shavings of my shop" that I hope will be helpful for readers.
1. Recognize the difference between efficient rhythm and dulling repetition. Finding the sweet spot can improve the quality, speed, and enjoyment of your work.
For example, in the above photo, sawing the cheeks for four tenons in a bunch put me in a nice sawing groove, accurate and fairly fast. After four more sets for the other ends, I was ready to move on to other tasks. Immediately doing likewise for another set of rails, would probably have put me over the threshold of monotony, and induced careless inaccuracies.
2. It is helpful to have a separate sharpening station, however modest, so you do not have to clear space on your bench for sharpening gear and the mess that sharpening can create. A dedicated station will also encourage timely attention to edges.
3. Milling rough lumber to finished thickness in one session can be risky, especially if there is substantial thickness or distortion that must be removed. If there is any doubt at all, it is safer to mill to near the final thickness, watch the wood for a few days, then, when it is convincingly settled, go to the final thickness. Then joint the edges and square the ends.
4. Keep router collets clean at all times. A slipped router bit is not fun. I use cotton-tip swabs before putting the router away after use. And clean the pitch off the bits before putting them away. I like CMT 2050 cleaner for that.
5. Be cognizant of the "zoom power" that you are working in. There is a larger margin for error for joints and edges in a basic pine bookcase than in a small, fine walnut jewelry box. Working at the wrong zoom power can create undue stress in the building bookcase, and obtrusive sloppiness in the box. Be practical.
6. Move and adjust the light to where you need it. Just do it. Then resume working.
7. There is almost always a smarter and less smart order to do things in building a project. Without going too crazy, take some time to think about the planned outcomes of processes and what can commonly go wrong. Then plan a course.
8. Without reinventing the wheel, it pays to once in a while rethink common procedures, constructions, and tool setups. Without a doubt, there is always more to learn, and I want to put at least some of it to use in my shop.
Happy woodworking, dear readers.