• Friday, November 11th, 2011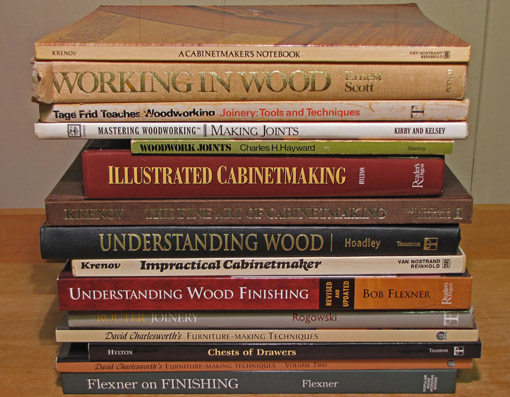 Isn't learning wonderful? You acquire new things that become part of you, you can do it all you want, it's good for you, and you don't ever have to stop. It does, however, require humility in that it must start with the admission of the enormity of what you do not know. Thus, I am a permanent student of woodworking. The learning I like best is the kind that I can put into action in the shop.
When asked, I say that I am a self-taught woodworker, true in the usual sense. In reality, I have had countless teachers, almost all from afar. I would like to share with you the woodworking teachers from whom I have learned the most.
James Krenov has to head the list. His writings and work catalyzed my intuition that making high quality things in wood, with a personal touch, is powerfully meaningful. Further, his level of technical refinement continues to set a standard.
Ernest Scott's Working in Wood, published in 1980 and, as far as I know, long out of print, was an encyclopedic challenge to absorb, especially for learning joinery. I would literally blow the sawdust off the pages as I turned them and practiced making joints. Tage Frid had a legendary breadth of practical woodworking knowledge. His Taunton Press books and articles remain directly usable at the bench. Ian Kirby offers clearly reasoned explanations of techniques that advanced my understanding and helped develop my habit of thinking through woodworking processes instead of accepting them by rote.
There are many more. To learn about wood, I turn to Bruce Hoadley (Understanding Wood), and the wonderful Fine Woodworking articles on different species authored by Jon Arno. Bob Flexner's lucid demystifying of finishing in his books, and articles in Popular Woodworking, is some of the best explanatory writing I've read on any topic. I still refer to Charles Hayward's Woodwork Joints, copyright 1975, to sort out joinery. David Charlesworth's incisive understanding of technique is top of the line.
For furniture construction, I often look to the writings of the following woodworkers in numerous sources. Bill Hylton must have taken five lifetimes to learn his range of ability. Chris Becksvoort gives reliable advice borne of long experience. I keep rereading Will Neptune's articles, there is so much in every paragraph. I've always enjoyed Gary Rogowski's enabling way of teaching several different ways to accomplish a job.
Still, there are so many more. Without a doubt, every devoted woodworker has his favorite teachers and sources. The explosion of woodworking information on the internet adds immeasurably to our learning opportunities. To all of the above and the many more unmentioned, thank you.