• Wednesday, June 29th, 2011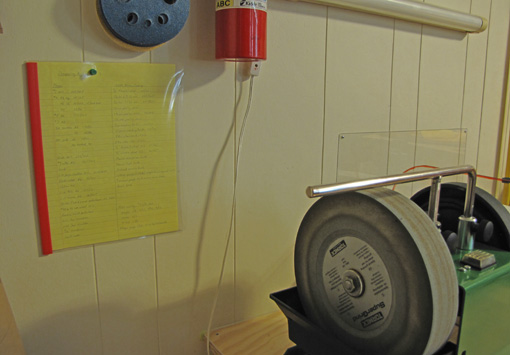 The yellow sheet, thumb-tacked to the wall near my sharpening bench, saves a lot of time and guesswork. On it, I've listed the primary and secondary sharpening bevels for each of my edge tools.
Writing or scratching this information directly on each tool is awkward and often hard to read. It's much easier to keep this sharpening "recipe" list. It is written in pencil because I sometimes change the angles as I get to know the performance of the steel in a new tool, or if I prepare a tool for working different woods. It pays to observe the edge wear and feel of an unfamiliar tool, taking note of any chipping and the resistance of the tool in the cut, and account for these in the next sharpening. Thus, the recipe develops from knowledge of the type of steel and feedback from the performance of the specific tool.
I grind the primary bevel on the Tormek, setting the angle from the recipe using Tormek's proprietary gauge. I prefer to grind to just short of the tool's edge which avoids unnecessary clean up on the coarse/medium waterstones. With the exception of most knives and some carving tools, I do not like the Tormek's leather wheel for honing.
The Kell bevel gauge is handy to check tools, particularly since the Tormek gauge can sometimes induce inaccuracy if a lot of steel is removed during grinding. Most of the time, though, I just work directly from the recipe and try to get back to woodworking as soon as I can.