• Thursday, June 04th, 2009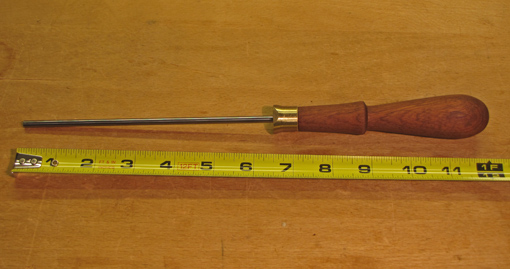 A Google search will yield many references to carbide burnishing tools used to form the hook on a scraper. I first came across the use of carbide in a commercially made burnisher in the old wooden-body version of Veritas' Variable Burnisher which houses a short carbide rod. (The body of the current version is a molded man-made material.) I later purchased their Burnisher which has a 1/8″ carbide rod projecting 3/4″ from a simple handle. Despite its small size, I found myself using this tool in preference to all of the many (too many) steel burnishers I've bought or made over the years. I just needed more length.
Pictured above is my homemade Burnisher for Life. Three and one-half years ago I asked the folks at Innovative Carbide to make a 3/16″ diameter 12″ highly polished carbide rod. I explained the intended use and they recommended an appropriate grade of carbide (10S) with excellent wear resistance. It cost about $50. I drilled a hole in a $4 handle to house 5 ½" of the rod with a press fit, which thus is effectively stored for future use, though I doubt it will be needed any time soon.
This is by far, no contest, the best burnisher I've ever used. The very hard and smooth carbide gives effortless, controlled burnishing. The length, though more than necessary, allows a combination of forward and sideways motions creating smooth action against the steel.
There are a few other homemade carbide burnishers to be found on the internet, but currently there is no need to make your own. Lie-Nielsen and Blue Spruce make carbide burnishers that look excellent, as expected from these makers, though I have not used them. The Blue Spruce is listed as 1/4″ in diameter and the Lie-Nielsen appears to be similar. I like the pressure produced by the 3/16″ diameter but I'm sure 1/4″ would work well and, I suppose, be sturdier.
A full size carbide burnisher, store bought or homemade, is relatively expensive but I'll bet once you try one, it will be the only kind you'll want to use.